ADDITIONAL CHARGES:
Additional Vehicle (daily) - $8 per night
Early Arrivals & Late Departures (until 8 pm):
1/2 Nightly Fee (Off season only & subject to availability). Please, no early arrivals In-Season
Additional Members of Camping Party (Per Night)
Children ages 3-17yrs
Off-Season: $3.00 each
In-Season: $6.00 each
Children 2yrs and under: no charge
Adults
$13.00 In Season
$8.00 Off Season
Visitors: Adults and Children visiting campers will be charged an admission fee as per the following schedule:
Visitor Admission Fee
(9 am - 12 noon next day)
In season: $13.00* per person
Off season: $8.00* per person
* Persons leaving within 1/2 hr. of arrival will be refunded FULL admission fee.
Persons leaving before the office closes will receive a partial refund.
Children 2 years and under no charge.
Sorry, visitors may not bring pets into park.
Use of Dump Station
(off road)$40

RV (trailer) Moving - each way
Ready w/24 hours notice - $75
Without 24 hours notice - $150
RV Storage Available. Please call for rates.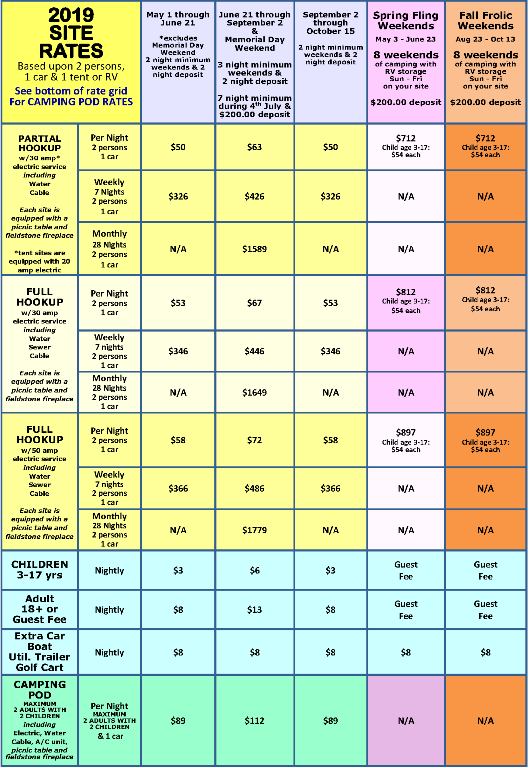 Bay View Campground's Cancellation Policy
Cancellations received more than 14 days in advance of arrival date will receive
a full refund less a $25.00 service charge.
Cancellations received 7 to 14 days before the arrival date will receive
a full refund less one night's fee.
Cancellations received less than 7 days before arrival date are non-refundable.